Price: $139.00 - $169.00
SUGGESTED RETAIL PER CASE: $399-$449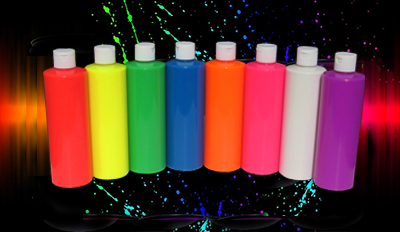 Throwing a PAINT PARTY? Our 16oz Washable Blacklight Party Paint (48 bottles per case) is absolutely perfect for indoor or outdoor events. If you need the most washable Neon UV Glow paint on the market today at an amazing price, then CONGRATULATIONS! YOU FOUND IT.
Our Washable Neon Blacklight Party Paint washes easily off skin, hair and most materials with just water. It appears semi translucent on the skin during daylight and will UV Glow bright under ultraviolet light (Blacklight) in darkness. The 16oz bottles are the perfect individual size to create crowd participation and are great to sell as add ons/ up sells at the event to raise funds.
Our Washable Neon Blacklight Party Paint passes ASTMD-4236 Safety standards and is completely safe on grass and plant life. It has also been used for years by millions of people all over the world so go ahead and purchase online right now so you can work on the rest of your event planning and leave the paint to us.
While normal master case packs are 48 pcs per color, We do have a selection of 2 different ASSORTMENT PACKS which are great for smaller events or when it is desired to get 4 different colors per case. Those Assortments are:
Assortment #1 - Neon Red, Yellow, Green, Blue
Assortment #2 - Neon Orange, Pink, Green, Purple
PLEASE NOTE: ALL SALES ARE FINAL. Please refer to our Shipping and Returns notice here.