Price: $99.00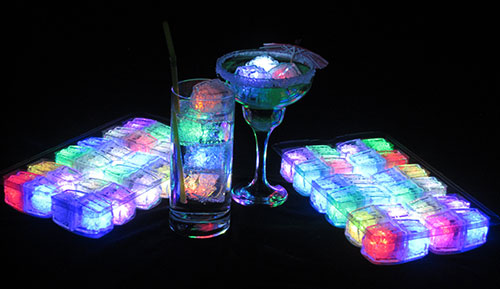 LIGHT UP GLOW PARTY ICE CUBES - COLOR CHANGING WITH ON/OFF SWITCH
Want to really impress the guests? We'll these GLOW PARTY ICE CUBES will do the trick. Nothing brings about the atmosphere of a special event like color changing ice cubes for drinks. That's right you can freeze them and they will not only help keep drinks cold they light up in many different ways. With the on/off switch on the bottom of each cube, your party guests can select the color they want from red, yellow, green, blue, orange, pink, purple, white and including blinking or solid colors by toggling through to the one they like the best.
Click on image above to view more images of the glasses.
While we mostly recommend these for more intimate gatherings for Birthdays, Holidays, and Graduations, they are also good for selling at larger events.
Dimensions: 12 x 7X7"
If you are looking for a large quantity or special order, please feel free to contact us.
PLEASE NOTE: ALL SALES ARE FINAL. Please refer to our Shipping and Returns notice here.