SUGGESTED RETAIL: $149
Price: $79.00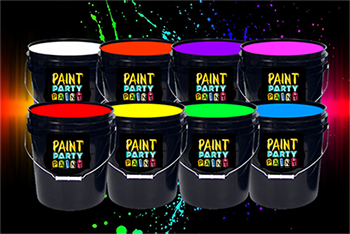 5 Gallon buckets of Washable Neon Blacklight Party Paint Paint are simply the best size for UV glow events when you need a sizeable amount of paint and control of the paint disbursement. You can set up your crew with buckets of paint and our 3ft paint cannons to soak the party goers from about 50ft away.

In addition, Our Washable Neon Blacklight Party Paint will spray out a premium thick quality of semi translucent colors on the skin during daylight and will glow bright neon colors under UV lighting (Blacklight) in darkness. While this paint is fantastic for outdoors, it is even better for indoor use where clean up is your main concern as the product is one of the most washable blacklight paints on the market. All of our washable paints have passed ASTMD-4336 safety standards and are safe for people and the environment.

Our high quality Made in the USA paint is created from 30 years manufacturing knowledge and experience so your guests will tell everyone how awesome the paint was and what a great time they had and not complaining about difficult clean up or watery paint. Therefore do the right thing for you and your guests and buy the Official Paint Party Paint Brand NOW!

Watch How Easy Paint Comes Off Concrete and Grass

Order online or feel free to contact us for large orders, special pricing or questions.

PLEASE NOTE: ALL SALES ARE FINAL. Please refer to our Shipping and Returns notice here.
Result Pages: 1 Displaying 1 to 9 (of 9 products)