SUGGESTEDf RETAIL: $169
Price: $99.00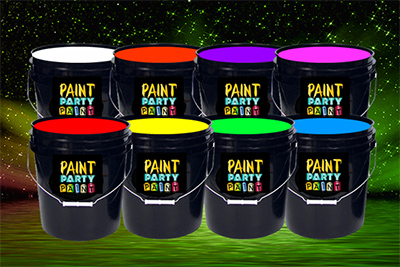 Our 5 Gallon buckets of UV Effects Paint Neon UV Party Paint are perfect for UV glow events when it is important to be in control of the paint disbursement. You can set up your crew with buckets of paint and our
3ft paint cannons
to soak the party goers from about 50ft away.
UV Effects Paint Blacklight Party Paint is absolutely awesome for outdoor daytime events when neon brightness is a much-needed WOW! factor. The paint appears very opaque on skin and other surfaces during daylight and astonishes with a bright UV Glow under ultraviolet light (Blacklight).
Event planners love using these brilliant colors at Outdoor Neon Paint Parties and 5 K glow runs as the paint radiates in sunlight and will create personally colored souvenirs out of T-shirts that will become fond memories of the great time they had at your event.
For indoor use, we recommend applying this paint carefully considering the surroundings that could be affected. It is best for creating individual skin design and is only recommended for indoor splashing around when lots of protective plastic is covering areas of concern.
Please feel free to contact us for questions concerning the product, large orders and special pricing.
IMPORTANT NOTICE: "UV EFFECTS PAINT WILL STAIN LIGHT COLORED CLOTHING AND OTHER POROUS MATERIALS SO USE WITH CAUTION"
PLEASE NOTE: ALL SALES ARE FINAL. Please refer to our Shipping and Returns notice here.