Price: $189.00
[SUGGESTED RETAIL PER 6 PACK CASE: $299.00-$359.00]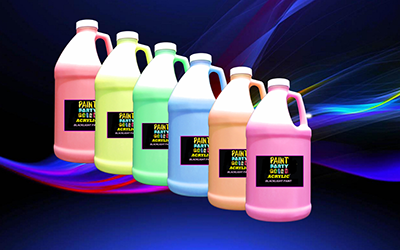 Painting a Large Backdrop, Room, or Set? Our Acrylic Neon Paint is a permanent paint excellent for surfaces such as wood, paper, Styrofoam, canvas, and various plastic and metal surfaces. Best used for backdrops, walls, movie sets, and other creative projects, This assortment set is perfect for a variety of colors to cover about 100-200 sq ft per bottle.
This premium Acrylic Neon paint will show up bright neon during the day and will glow bright under blacklight (Ultraviolet Light) in darkness. The paint is very safe to use and passes ASTMD-4236 safety standards. Product is also great for Halloween, Laser Tag Rooms, Miniature Glow Golf, and much more.
Neon colors include one each of: Red, Green, Pink, Yellow, Blue and Orange
Most orders will ship next business day.
If you have a large quantity order, large surface to cover, or overseas order, please contact us for special pricing and service.
PLEASE NOTE: ALL SALES ARE FINAL. Please refer to our Shipping and Returns notice here.